WE'RE HERE BECAUSE WE LOVE ROCKFORD.
ROCKFORD IS WHERE WE RAISED OUR KIDS.
ROCKFORD IS WHERE OUR GRANDCHILDREN LIVE.
ROCKFORD IS WHERE WE'VE

ALWAYS

CALLED HOME.
MEET THE NEW OWNERS, TONY AND MICHELLE ARBISI: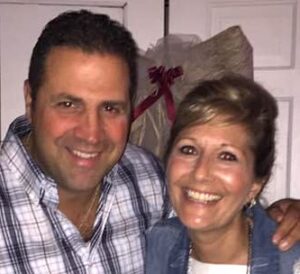 Arbisi's City Body Shop has an extensive history that began right here in the heart of Winnebago County.
In March of 2023, we purchased City Body Shop from the previous owner, Bill Wishard. This was not an easy decision for Bill since City Body Shop was originally started by his mother and father, LaVerne and Kathleen Wishard, back in the early 1950s.
LaVerne was a Korean War Veteran and when he returned home, keeping City Body Shop open was no easy task. His original building unfortunately burned down, forcing him to take a brief hiatus in order to save enough money to reopen. When he did relaunch the business, it flourished! He had several locations for City Body Shop across downtown Rockford before streamlining his operations at a single location, which is now our current location of 301 N. Madison Street.
LaVerne and Kathleen tragically passed away in 1978. Bill took over as President of City Body Shop and for nearly 70 years, Bill and his family provided Rockford with quality collision repair and towing services.
WE'RE GOING TO CONTINUE THAT LEGACY
As Rockford natives, we're very familiar with the longstanding history and reputation of City Body Shop, and we've committed ourselves to upholding the legacy and values that the Wishard family worked so hard to establish.
We've spent nearly our entire adult lives working within the auto business, so acquiring City Body Shop was the perfect fit for the next stage of our careers.
Michelle graduated from Harlem High School, and a few years later began her 30+ years in the collision repair industry.
I graduated from Boylan Catholic High School, then joined the US Navy where I served in Operation Desert Storm, and returned home after four years of service with an honorable discharge. I then began serving the community for 30+ years in several different capacities.
We decided to keep "City Body Shop" within the name of our business "Arbisi's City Body Shop" in order to pay homage to the lifelong residency and commitment of the previous owners to the betterment of the Rockford community.
We couldn't be more proud to serve you. If you're in need of quality collision repair services, then we invite you to become a member of the Arbisi's City Body Shop family.
Please give us a call at (815) 965-0515 or click here to request a free estimate.
Sincerely,
Tony and Michelle Arbisi
"This community has shaped me. Generations ago, my family immigrated here from Sicily and worked tirelessly to build its infrastructure. It only felt natural for me to continue building this community. I found that opportunity right here in the heart of Rockford, and I couldn't be more proud." – Tony Arbisi
"The Rockford area has always been home for me. I raised my kids here and watched this community grow with them. I'm happy that now my grandchildren can reap the benefits of this community that we're working hard to enrich." – Michelle Arbisi