A HISTORY OF SUCCESS IN COLLISION REPAIR.
After getting out of the Korean War in the early 50s, LaVerne Wishard had a wife and three children to support. He decided to start an Auto Repair Shop on N. Horseman St. The shop did mechanical and auto body repair and painting. The shop was called Quarry St. Body Shop. Things were going okay – not great, but okay. He hired a couple of men part time and things got a little better, but then one night after he had closed, one of his friends was using the shop to work on his racecar – using a torch. His friend locked up and went home. That night the shop burned down, some sparks must have been smoldering.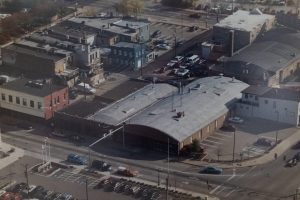 No insurance, nowhere to go, and a family to support, LaVerne went to work selling freezers for a few years to get back on his feet.
In 1958 he rented half of a building on S. Winnebago and started City Body Shop. It wasn't long and he expanded and moved to 329 S. Court. It was bigger, but not big enough to expand. The Collier Studebaker [building] became available in the 60s when Studebaker quit making cars in the United States. [LaVerne] moved into that building until 1970 when the Anderson building became available at 120 S. 2nd St. across from City Hall.
In 1978, LaVerne and his wife Kathleen were killed in a car accident coming back from their cottage at Lake Ripley. His son William Wishard was painting at the shop at the time. He took over as President of City Body Shop in 1979. In 1998, City Body Shop opened a second location at 301 N. Madison St. 
After 37 years at 120 S. 2nd St., Bill and his family decided to consolidate both Body Shop and Towing into one location at 301 N. Madison St. Bill and his staff are still providing the best in collision repair at the Madison St. location.
We are hiring! We are growing already and want you to be part of it. We look forward to meeting you.